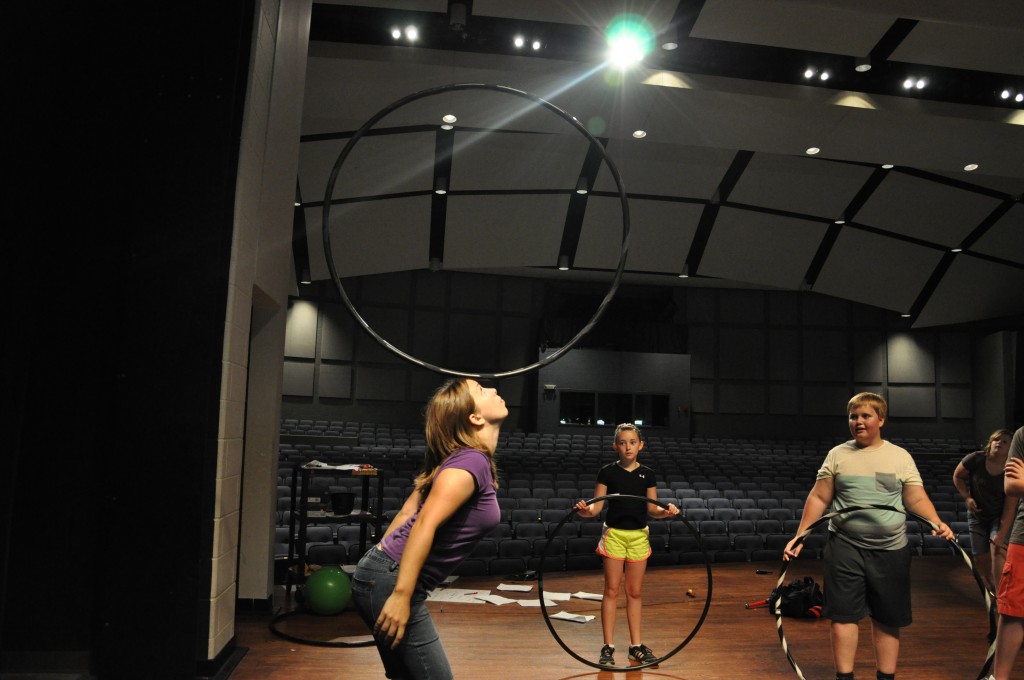 Journey On!
This summer, we've designed a dynamic theatre experience for campers to enjoy. All of our weekly camps are still based around a theme and culminate in a showcase performance. Campers can choose between building, performing, or filming camps. However, camp in summer 2015 will be distinctly different than in years past with more opportunities for high schoolers, free lunch, and the Camp Out program for working families.
Download a brochure and registration here!
All camps run 9:00 a.m. – 3:00 p.m. unless otherwise noted. Registrations will be accepted up to, and on, the first day of camp.
Week 1 June 8-12
1a: Alien Invasion, K-5, $70, building
The planet has been invaded by aliens! The only catch is that the planet isn't Earth and humans are the invaders. What are the challenges to overcome when meeting extraterrestrial life forms with experiences vastly different than our own?
1b: TARDIS, 6-12, $70, building
For over 50 years, Doctor Who has inhabited our TV sets and the Doctor has embarked on many adventures thanks to his TARDIS. This device can travel through all of space and time and it's on your doorstep. Will you save the universe? 
Week 2 June 15-19
2a: Explorers Club, K-5, $70, filming
Adventure is around every corner in the Daily Explorers Club! Create the tools of your trade and mount an expedition to the last unknown corners of the globe.
2b: 3 Musketeers, 6-12, $70, performing
All for one and one for all! Campers engage in a retelling of Alexandre Dumas' classic The Three Musketeers. Camp includes a stage combat workshop with Society of American Fight Director-certified Jason Tipsword. 
Week 3 June 22-26
3a: Pirates & Ninjas, K-5, $70, building
Which is better, pirates or ninjas? Campers spend the week engaged in an improvised theatre piece that is an epic three-part game designed to settle one of life's greatest debates. 
3b. Actor's Journey, 6-12, $50, performing
Night camp: 6:30 – 8:30 p.m. 
Send your camper to this night camp and they'll come out of it a practiced theatre professional. Performers will work on a 10-minute scene that will challenge their acting abilities like never before! 
Week 4 July 6-10
4a: Tales of Mystery, K-5, $70, building
Back for its third year, Tales of Mystery will take to the radio waves of yesteryear! Campers will work over the course of the week to create their own thrilling tales of suspense and present them in a radio theatre format. 
4b: !mprov, 6-12, $70, performing
Improvisation is the creation of theatre without a script. For the entire week, campers cover the basics of improv and will perform an original showcase that is made up on the spot!
Week 5 July 13-17
Hogwarts Academy, K-5, 6-12, $70, performing
J.K. Rowling created a rich world filled with amazing characters. The Youth Theatre will explore what happens if Harry Potter wasn't chose to defeat He Who Shall Not Be Named. What other characters from the universe could take up wands as the chosen hero of the wizarding world? 
Week 6 July 20-14
Musical Theatre, K-2, 3-5, 6-12, $70, performing
Acting, dancing, and singing at the same time on stage can be challenging for any performer. Musical Theatre returns for its third year to make campers into a triple threat! 
Week 7 July 27-21, August 3-7
Theatre Production, K-12, $140, performing
Two week session
The end of the summer will culminate in a musical production that will be performed on August 7th. Campers will mount a production that includes lights, set, props, and all the other goodies that come with putting on a play. 
Free Lunch!
For the first time ever, lunch will be provided for all campers involved with summer camp! The George Daily Youth Theatre is partnering with the Oskaloosa Summer Lunch Program, a program sponsored by the United Way of Mahaska County to bring nutritionally balanced and healthy lunches and snacks to all children involved with camp, at no cost to families.
Camp Out as Night Owls
This summer, our camp runs from 9 a.m. – 3 p.m. but that doesn't mean campers can't "Camp Out" every now and then. At the end of the day, Night Owl campers can stay as late as 5:00 p.m. The Camp Out program is available everyday after camp to any family for $5 per hour per camper. Scholarships are not available for Camp Out.
General Info and Discounts
Every camper needs to wear shoes that enclose the toe and heel, like tennis shoes. They may bring a water bottle and sunscreen, but those items are not required. Afternoon snacks and lunch are provided thanks to the Oskaloosa Summer Lunch Program, but campers are welcome to bring a snack for morning break as well.
If a family member is later than 15 minutes for pick-up, the family will be charged $5 per hour, the same rate as the Camp Out Program.
Registration fees should never be a barrier to attending camp. Programming will always be available for any families in need, and those options should be discussed on a case-by-case basis with the Education Director.
Discounts are available for returning campers and families with multiple campers. Discounts may only be used until a camp costs $40.