Friends of the Auditorium is proud to announce the 2014-2015 Professional Touring Season! 
Download a copy of our season brochure!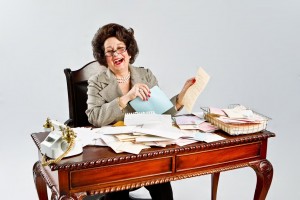 The Lady With All The Answers
Monday, October 6, 2014 at 7:30 p.m.
Adults $20, Students $10
For decades, renowned advice columnist Ann Landers answered countless letters from lovelorn teens, confused couples, and a multitude of others in need of advice. No topic was off-limits! Late on a 1975 night in Landers' Chicago apartment, an ironic twist of events confronts her with a looming deadline for a column dealing with a new kind of heartbreak: her own. As she shares her struggles to complete the column with us, we learn as much about ourselves as we do about the wise, no-nonsense woman whose daily dialogue with America helped shape the social landscapes of the last half-century.
Sponsored by Bank Iowa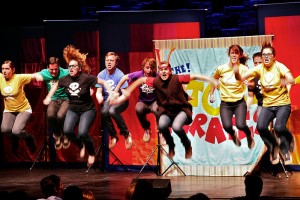 Story Pirates
Tuesday, October 21, 2014 at 7:00 p.m.
Adults $12, Students $5
Story Pirates celebrates creative writing by students in a loud, hilarious sketch comedy musical performed by professional improvisers and musicians. Their performance is based entirely on stories written by local students in Oskaloosa and New Sharon and part of the show is made up on the spot by kids in the audience! Called "crazy entertaining" by the Daily Show's Jon Stewart, Story Pirates will keep you doubled over laughing, all the while motivating kids to pick up a pencil and write from their own imaginations. Sketches run the gamut, from kung fu ninja babies fighting crime to cats flying and tickle monsters who rule the world.
Sponsored by Clow Valve Co. and the Optimist Club of Oskaloosa, with support from the Mahaska County Community Foundation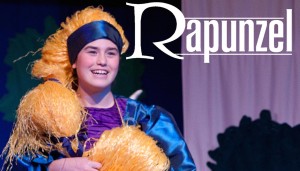 Missoula Children's Theatre: Rapunzel
Auditions: Monday, January 12, 2015 at 4:00 p.m.
Performance: Saturday, January 17, 2015 at 3:00 p.m. and 7:00 p.m.
Adults $8, Students $4
Calling all kids! Rapunzel and a memorable cast of characters tell a silly tale of personal triumph, friendship, and frivolous frolics through the French countryside. Frenchy and his intense friends, the Wood Elves, do their best to help Rapunzel escape the grasp of Madame Gothel – and just when it seems safe to cross the bridge, a Troll and Three Billy Goats Gruff get in the way. Add to that the Gremlins trying to play tricks on everyone and you have chaos! Rapunzel will come to life using children from the Oskaloosa community. Children ages 5 – 18 are invited to audition, rehearse, and perform in this adaptation.
Sponsored by MidWestOne Bank and the Kiwanis Club of Oskaloosa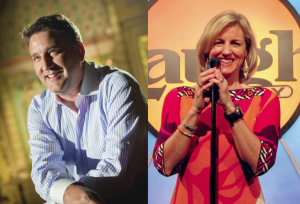 My Funny Valentine
Thursday, February 12, 2015 at 7:30 p.m.
Adults $20, Students $10
Are you looking for the perfect Valentine's Date Night? Pat Hazell, mastermind behind The Wonder Bread Years, is back in Oskaloosa! Hazell, one of Showtime's "Five Funniest People in America," teams up with "Funniest Mom in America" finalist Karen Morgan for an evening of hilarious and heartwarming stand up comedy. Bring your sweetheart, bring your friends, and bring your sense of humor for a night of guaranteed laughter!
Sponsored by Musco Lighting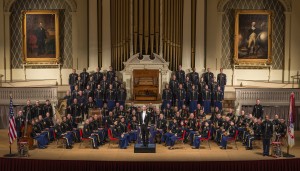 U.S. Army Field Band
Sunday, March 8, 2015 at 3:00 p.m.
FREE
From Boston to Bombay, Tokyo to Toronto, the United States Army Field Band has been thrilling audiences of all ages for more than six decades. As the premier touring musical  representative for the United States Army, this internationally acclaimed organization travels thousands of miles each year presenting a variety of music to enthusiastic audiences throughout the nation and abroad. The United States Army Field Band is considered by music critics to be one of the most versatile and inspiring musical organizations in the world and its members represent some of the finest musical talent in America. Bring the whole family for a night of fun!
Sponsored by the Oskaloosa Herald and KBOE Radio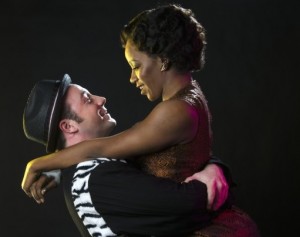 Memphis
Tuesday, March 24, 2015 at 7:30 p.m.
Adults $35, Students $15
Turn up that dial! Winner of four Tony Awards including Best Musical, the professional tour of Memphis bursts onto stage with explosive dancing, irresistible songs, and a thrilling tale of fame and forbidden love. From the underground dance clubs of 1950s Memphis, Tennessee, a radio DJ who wants to change the world meets a club singer ready for her big break. Come along on their incredible journey to the ends of the airwaves – filled with laughter, soaring emotion, and roof-raising rock 'n' roll.
Sponsored by Musco Lighting and C.L. Barnhouse Company
This presentation is supported by the Arts Midwest Touring Fund, a program of Arts Midwest that is funded by the National Endowment for the Arts, with additional contributions from the Iowa Arts Council and General Mills Foundation.