Auditions for George!
Thank you for your interest in auditioning for George! We know that your time is precious, so we're grateful that you've chosen to spend time with us and put on a show this summer. It's going to be a great time and we can't wait to get started!
Download: Audition Form, Audition Letter, Character Descriptions, Rehearsal Schedule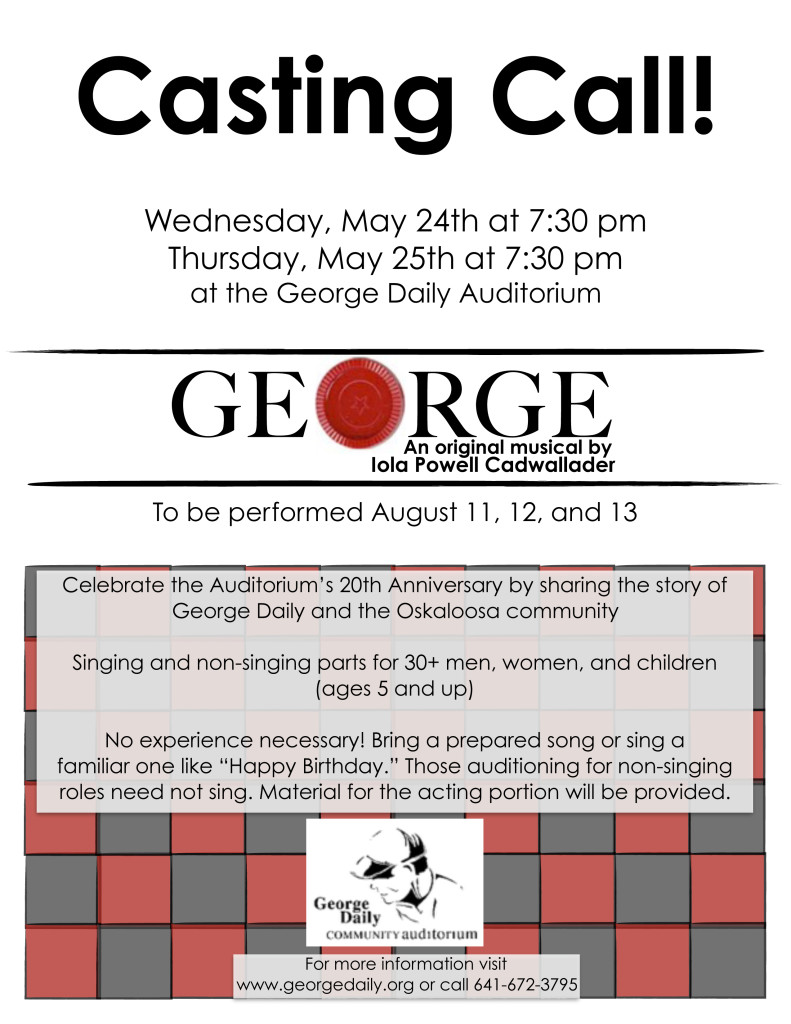 A few housekeeping items that we'd like to make you aware of before you audition:
**This show has many sizable roles for men, women, and children. We highly encourage families to audition, but have decided to open auditions to anyone five-years-old and above, due to the singing and dancing required in the ensemble scenes.
**While we're on the subject of ensemble….the ensemble is the lifeblood of George. You'll see in the character descriptions that there are about ten roles listed where an actor will be assigned to play only one role. All other roles, which are listed under "Ensemble Characters" will be played by members of the Ensemble Cast. Depending on auditions, actors in the Ensemble Cast may play multiple roles and will appear in the three large musical numbers for the ensemble.
**On your audition form, you'll see there is a place to list any conflicts. Please fill this out carefully to the best of your knowledge, listing any vacations, school, and work conflicts from 6:30pm on. Any conflicts listed will be honored, and we'll do our best to work the rehearsal schedule around them. It's important that you list every possible conflict, because this promise cannot be made for conflicts that are not listed. Unfortunately, we cannot cast people who have conflicts within the last week of rehearsals (August 6-10) or during performance times (August 11,12,13).
**We will do our best to be respectful of your time. Rehearsals will be held Mondays through Thursdays until the week before the performances (Please note there are Friday, Saturday, and Sunday calls this week). They are scheduled according to scenes and musical numbers. It is doubtful that anyone will be called for every rehearsal until the final week, and we often will only need you for a portion of the time. In this case, your call or release time will be adjusted accordingly. Children will be released early as often as possible.
**We ask that an adult with a cast member 12 and under volunteer for two rehearsals and/or performances during the last two weeks of the production to help with the supervision of our younger cast members. 
**Please arrive at the auditions with enough time to fill out your audition form before the auditions start, or print and fill out it out prior to arriving. Auditorium doors will open 30 minutes before the listed audition time (7 pm).
**Your audition will consist of singing some vocal warm-ups and a prepared song. You'll also do cold readings. You may bring sheet music for an accompanist OR play a karaoke accompaniment using your phone. We will provide a speaker and cords. The karaoke accompaniment may not use background vocals. If you don't have a song prepared, that's perfectly fine. We'll ask you to choose a familiar song, like "America the Beautiful" or "Happy Birthday." We will provide the cold reading materials as soon as you arrive.
**The cast list will be posted online at www.georgedaily.org by Tuesday, May 30. The list also will be sent out via e-mail.
**All cast members (and parents of participating children and teens) are expected to attend our first cast meeting on Wednesday, May 31st at 7:30pm. The regular rehearsal schedule will begin Monday, June 5th.
Thank you again, and break a leg!
—Allison and Andy McGuire