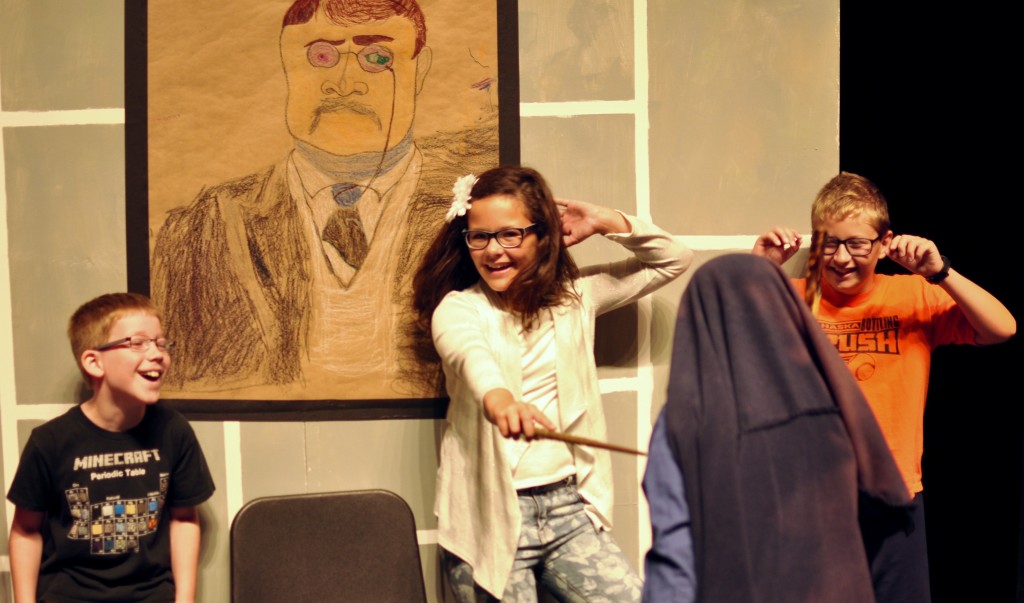 The George Daily Youth Theatre is the auditorium's own professionally-staffed program. Camps are created around project-based education and are designed to use theatre as a tool to teach confidence, critical thinking, creativity, collaboration, and responsibility. Year-round programming is available to children in the form of an after school program and an eight-week summer camp.
2015-2016 After School Program
March 28 – May 6 Robots
In this filming camp, the year is 3895 and the world is on the edge of robotic domination. As a robot, do you have what it takes to conquer the world, or as a human, can you find a new way for the two species to coexist? Remodel yourself as a robot and change the world!
The showcase will be on Friday, May 6 at 5:30 p.m.
K-2: Wednesdays, $35
3-5: Mondays & Tuesdays, $70
6-8: Thursdays & Fridays, $70 (On April 7, camp will be from 12:30 – 2:30 p.m.)
Summer 2016
Summer is just around the corner, so take a look at our eight-week summer camp!
Download a registration form here! (You can open the link and print from your browser, or save the file to your computer.)
Week 1 – Wizards, Wands, and Wonders!
June 6-10, K-12th grade, $70
The mysterious Mercy McKinley has set out to tear down the wall between the Wizards and Muggles. Can you figure out how to stop this rogue wizard and restore the balance between magic and science?
Week 2 – Musical Theatre
June 13-17, K-12th grade, $70
Singing, acting, and dancing are all impressive skills to learn individually, but in this camp, you will need to put all three together and become a triple threat!
Week 3 – Red v Blue: Gaming Camp
June 27-July 1, K-12th grade, $70
Put your game faces on! Red vs Blue is a camp that focuses on high energy, team-based games, including camper favorites like Capture the Flag, Barricade, and VIP.
Week 4 – Pre-K Superheroes!
July 6,7,8 from 1:00 – 3:00 p.m., ages 4 & 5, $35
Have you ever wondered what your super power would be? This camp starts your 4 or 5-year-old on their own theatrical journey by using their creativity to design their own superhero.
Week 5A – Fairy Tale Super-Fight
July 11-15, K-12th grade, $70
Who would win in fight: Snow White or Sleeping Beauty?
This improv-based camp puts fairy tale characters against each other, and campers need to figure out who wins by way of Fairy Tale Super-Fight!
Week 5B – Performer's Journey
July 11-15, 6-12th grade, $70
Performer's Journey is for the camper that wants to learn more of the disciplined art of theatre. Campers will receive a script and spend the week building a traditional theatre experience for the showcase at the end of the week. This camp will take place on the same dates as Fairy Tale Super-Fight.
Week 6 – Daily Film Project
July 18-22, K-12th Grade, $70
Campers are split into production teams and are tasked with creating a new film every day of camp. They will choose genres, props, and characters at random and will be in charge of bringing a film to life. There will be a film festival at the end of the week in place of the showcase.
Weeks 7 & 8 – Theatre Production
July 25-29 & August 1-5, K-12th Grade, $140
Returning for its second year is our theatre production camp! We will audition on day one and take two weeks to mount a full production with costumes, set, lights, and everything else that comes with a theatre production. Campers will not only act, but have a hand in designing the final production.
The performance will be at 7:00 p.m. on the night of August 5.