Click here to make a tax deductible donation to the George Daily Auditorium!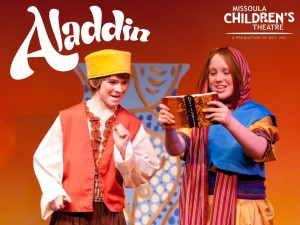 Calling all kids! Auditions for Aladdin are on Monday, February 15 at 4:00 p.m. Kids in Kindergarten – 12th grade are all welcome to audition for this production! Approximately 60 students from Oskaloosa will be cast to rehearse, memorize, and perform Aladdin over the course of one week. No experience is necessary! Audition forms are available for printing here.
Don't miss their performance on Saturday, February 20 at 3:00 p.m. and again at 7:00 p.m.! Based on the famous Arabian Tales of Ali Baba, Scheherazade, and even Sinbad the Sailor, Aladdin journeys to find a magic lamp in a Cave of (not-so-great) Wonders. Along the way, Aladdin seeks answers and advice from wise Genies and a powerful Sultan to find a way to meet the Princess. However, even with the lamp in hand, Aladdin will have to learn that it takes more than a wish to make a good impression.